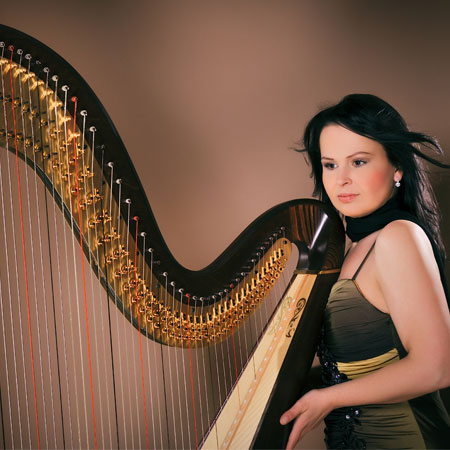 Harpist Katarina
Spellbinding performances have amazed audiences across Europe
Performs an eclectic mix of genres reinvented for the harp
Suited for elegant background music & as a mesmerising concert
Perfect for black tie events, wedding receptions, & garden parties
Based in Prague & available to perform at events worldwide
A highly regarded and sought after harpist, Katarina began playing the piano and harp from an early age. Passionate about this beautiful instrument, she is dedicated to providing elegant relaxing music for spas, hotels, dinners, and special occasions. She is also an accomplished concert harpist and is no stranger to playing in front of audiences numbering in the thousands.
Her extensive and eclectic repertoire is perfect for a range of events and features classical pieces as well as jazz and pop songs by the likes of Alanis Morisette, Bryan Adams, Pearl Jam and Metallica, all of which have been reinterpreted for the harp.
Whether you're looking for subtle background music or mesmerising concert entertainment, Katarina will deliver a world-class performance that will impress any audience.
A.Morisette That I Would Be Good
A.Morris Feelings
A.Bocelli Vivo por Ella
Tine To Say Goodbye
B.Adams Everything I Do It For You
Have You Ever Really Loved a Woman?
B.Andres Les Iles (sambarumba.mambo for harp)
C.Dion My Hearth Will Go On
D.Ross If We Hold on Together
When You Tell Me That You Love Me
D.Marcotte Tico -Tico
E.Morricone Once Upon a Time in The West
The Story of The Lady With Camelias
Vent Le Cei
Mai
You Are Still You
A Mozart Reincarnated
The Good The Bad and The Ugly
E.Presley Love Me Tebder
Loving You
King Creole
Wooden Heart
Suspicious Minds
E.Tiffany Tango delle Rose
E.Garner Misty
F.Sinatra New yorknew york
My Way
Only You
Stranger In The Night
G.Gorter Crazy Cat
Swinging harp
Fireflies Owl City
H.Arlen Over The Rainbow
H.G.Heumann music from films
Bilitis from film Bilitis
Memoryfrom film Cats
Streets of Londom
Melancholy of Love
Passion of Love
La Reve
Love Story A.Williams
Santa Lucia
H.Mancini Moon River
Ch.Norman Midnight Lady
J.Barry Somewhere In Time
L.Bonfa Samba de Orfeu
Black Orpheis (Manha de Carneval)
L.Rechie Hallo
Endless Love
L.Kravitz Stand By My Woman
Again
Metallica Nothing Else Matters
M.Oldfield Moonlight Shadow
To France
M.Magatagan Latin Bolero (Gema )
N.Rota Godfather
A Time For Us Romeo and Julie
Pink Floyd Wish You Were Here
Pearl Jam Last Kiss
R.Rodges My Funny Valentine
Sting Fields of Gold
S.Joplin The Entertainer
S.Staneslow Celtic music for harp
Jewish music
S.Wonder I Just Called To Say I Love You
Wonderful World
Vangelis Conquest of Paradise
Chariots ef fire
Vanessa Williams Save the best of last
The Beatles Michelle
Yesterady
Hey Jude
All My Loving
Queen Bohemian Rhapsody
Yiruma River flows in you
Lara Fabian Je Taime
Serge Lama Je suis Malade
Luise Trotter Tequila Tango
Tall Cactus Tango
Echoes Of The Alamo
Jamaican Rumba
C.Lachapella Blue Tango
Y.Rivoval Chansons et danses d'amérique latine harpe
Samba Lele
E Gato
Ballads Pop Jazz
Lamento
Nocturne
A.Caplet Chanson Bretonne
5 Baladeles Francoises
A.Dvořák Humoreska
Song to the Moon from the Rusalka
B.Smetana/Trneček Moldau
B.Andres Le sentier pourpre
Automates
Les Ilets
C.Debussy Reveria
Clair de Lune
E.Schubert Nostalgie
E.Toselli Serenata
F.A.Rosseti Sonata Es dur
F.Chopin I'm Always Chasing Rainbows
F.Kuhlau Sonatina
F.M.Bartholdy Wedding march
F. Schubert Ave Maria
G.F.Handel Concert for Harp B dur
G.Puccini Valse de Musette La Bohema
G.Verdi Nabucco
H.Boyne Chacone
Ch.Goumond Faus a Marketa Waltz from the Opera
Ch.Hochbrucker Menuett
I.P.McVoy Premiere Contemplation Elegie
J.Benda Sonat for Harp
J.Brahms Hungarian Dance
J.B.Cardon Sonat for Harp No.1
J.F.Naderman 7 Sonates
J.L.Dusík 6 Sonatin
J.K.Krumpholz Sonat Sonat for harp
J.Offenbach Barkarole
J.S.Bach Preludium
Air
Menuett
Jesus bleibet meine freunde
J.Strauss Emperor Waltz
Die Donau wellen
Auf der schone blauen Donau
Auf dem wellen
Der Zigeunerbaron
J.Pauer Preludium
L.Delibes Valse lento from the balett Coppelia
L.v.Beethoven For Elise
Sonatina
Moonlight sonata
M.Clementi Sonatina
M.Glinka Variation on The theme of W.A.Mozart
M.Tournier Promenada á lautomne
Etude de concert
4 Préludes
Thémo et variations
O.Metra Espana valse
P. De. Senneville Lyphard melody
Balada pro Adelinu
Romantica - serenade
P.I Tchaikovsky from Swan Lake
R.Binge Elisebethan serenade
R.Wagner Bridal Chorus from Lohengrin
Saint-SaensCamille Fantasie for Harp
W.A.Mozart Turkish marsch
Aria from Don Giovanni
Wm Horsley Harpers lamentation
A.Hasselmans Ballade