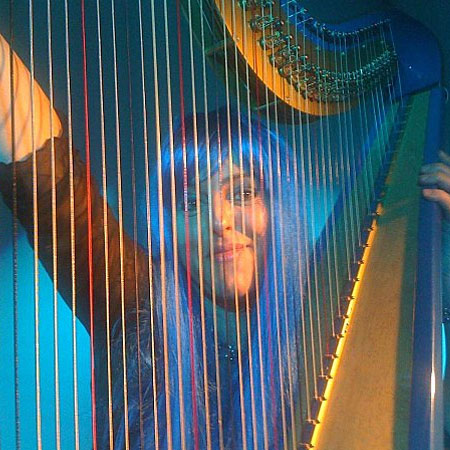 Harpist: Paris
Professional Paris based harpist who has performed for over 20 years
Highly trained musician, has performed for royalty & high profile clients
Popular for Wedding ceremonies and cocktail reception.
Available solo or other musicians - flutes, violins, cellos & vocalists
Based in Paris, France and available to perform worldwide
For over 20 years this professional Paris-based harpist has been entertaining guests at prestigious events across France. 
A highly trained musician, Miriam has performed for royalty, dignitaries and high profile clients that include Queen Elizabeth & Prince Phillip, Prince Aga Khan, the actress Charlotte Rampling and the former Mayor of San Francisco Willie Brown.
Miriam performs classical music and is the perfect accompaniment to any wedding ceremony, soiree or private function.
This act is available as a solo or with up to five other musicians to include; flutes, violins, cellos or other harpists.  This harpist can also perform alongside the extremely talented soprano classical singer, Catherine Manandaza.
Harp alone
In a duet
A trio
And a quartett to sextett with these instruments:
flute(s)
violin(s)
cello(s)
She can play:
Duet
Trio
And harp ensemble
And together with another harpist in:
Dînner for l'Entente Cordiale : Her Majesty the Queen Elizabeth the Prince Duke of Edimbourg Mrs Bernadette Chirac...
Réception for the 70th birthday party of Prince Henri de France Comte de Paris at the Hôtel Ritz de Paris
Gala de Bienfaisance dinner of  Madame la Comtesse de Paris
Dîner de gala du Prince Aga Khan at the  Chantilly Castle
Réception for the Embassador with Mrs Farah Pahlavi Diba the french minister Jack Lang the actress Charlotte Rampling
Réception de départ de Sir Michael Jay Embassador of Great Brittain
75th birthday party of Mr. Willie Brown former mayor of  San Francisco.
The Queen's Birthday Party à l'Ambassade de Grande Bretagne à Paris