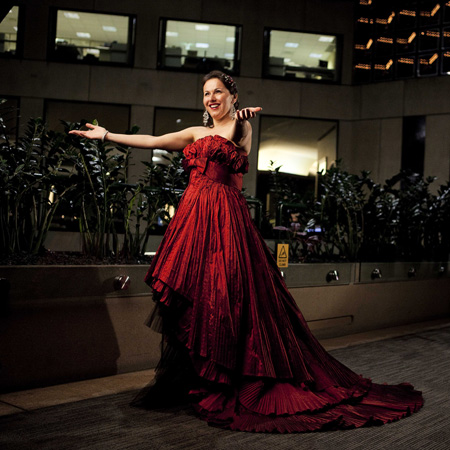 Inspirational Speaker & Soprano
An entertaining & inspirational keynote speaker and soprano
Spoken, performed & conducted workshops at conferences worldwide
Named Australian Social Entrepreneur of the Year 2006
Specialises in Leadership, Change, Culture, Women in Business, Innovation
Previous clients include BMW, SAP, Pfizer, Ford Motor Company...
Inspirational Speaker & Soprano PHOTOS
Tania is an entertaining, inspirational, knowledgeable and experienced, public speaker, MC, performer, workshop leader and transformational innovation business facilitator who achieves outstanding results and standing ovations. She often concludes her keynotes with a powerful song.
DIVERSITY OF TOPICS
Tania has been keynote speaker, MC, performer, workshop leader and facilitator at a wide range of conferences and special events. She builds rapport with diverse groups ranging from Board Members, CEOs and senior executives to those on the shop floor. She has spoken, performed and conducted workshops at conferences across Australia, as well as NZ, USA, Europe and Asia.
•    Positive Human Collisions – the secrets of developing a culture of innovation
•    Creativity: the strategic tool of the 21st Century
•    The Artful Human - Unleashing potential through creative leadership 
•    With One Voice – building a united and positive culture
•    The 3 must haves in any organisation: Creativity, Diversity, Community
•    How to develop an innovation capability? 
•    Profits or Conversations? Creating meaning and purpose in uncertain times
•    Keys to business success and leadership
•    Finding your passion and purpose 
•    Making a difference through creativity and social enterprise - engaging partnerships and communities 
•    Are we educating people out of their creativity?
•    Creativity and Innovation - how to harness them in your people and organisation?
•    The power of storytelling
ACHIEVEMENTS 
Tania is a leading Australian soprano, social entrepreneur and founder of 4 businesses and 2 charities. Her grandmother was the founder of the original foldable umbrella, so innovation is in her blood! She has a Bachelor of Law (Honours) from the University of Melbourne and is a graduate of Victorian College of the Arts. Her numerous awards include Australian Social Entrepreneur of the Year as Founder of The Song Room, a Melbourne Award and induction into the Entrepreneurs Hall of Fame at Swinburne University.
Australian Pain Society Conference
Bangkok Public Insurance Co.
Bionic Ear Institute
BMW
Channel Ten
Crown Casino
Herald & Weekly Times
International Plumbers Conference
Melbourne City Council
Monash Medical Centre
Pfizer
Price Waterhouse Coopers
Royal Melbourne Hospital
Sheraton Imperial (Kuala Lumpur)
Starwood Hotels & Resorts
The Walt Disney Company (National Tour)
ANZ Bank
Australian Unity
BHP
Blake Dawson Waldron
British International School (Indonesia)
Coles Myer
Ford Motor Company
Howard Florey Institute
Isuzu Italian Chamber of Commerce
Merrill Lynch
National Australia Bank
President's Cup Ball
Rotary International
SAP
Spotless Group
Telstra
Australia Post