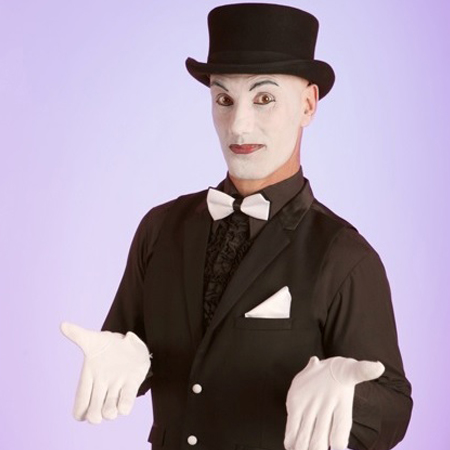 International Mime Artist
Multi-skilled entertainer popular with corporate and street theatre events
Can perform as a mime artist, contact juggler and visual actor
Has performed at two private parties for Her Majesty the Queen
Previous corporate clients include Microsoft, Rolls Royce, RBS
Based in the UK and available to perform at events worldwide
International Mime Artist PHOTOS
Jason is a multi-skilled entertainer based in the UK. A mime artist and contact juggling specialist, he zigzags between corporate entertainment and street theatre events. A former international athlete, Jason can offer a variety of entertainment for your event including:-
The Golden Doorman, The Ice People or glow juggling
Mesmerising contact juggling with crystal balls and comedy patter plus Glowing light club and ball juggling for ambient entertainment.
Slow motion, Human Puppet, Robotics, Body Ripples, Mannequin.
Robotic dancing, comedy mime, slow motion, a ridiculous superhero routine, possibly the world's highest five ball juggling and audience participation with upbeat backing music.  Tailored to suit the age range of the audience.
Since 1987, Jason has performed in more than 20 countries and his highlights include; 2 private parties for Her Majesty the Queen, performances for blue chip companies including Microsoft, Rolls Royce and RBS, and performance tours of Botswana, Oman and Turkey funded by the British Council.
To find out more about how to book contact our team of Entertainment Experts.
RBS
VIP entertainment at the Commonwealth Games Manchester 2002
Private Parties for:
Madonna
George Harrison
Abu Dhabi
Botswana
Baltic
Hong Kong
New York
Oman
And numerous European countries
Microsoft
Her Majesty the Queen & Royal Family at The Ritz Hotel
Sting
Arnold Schwarzenegger
Jonathan Ross...
Performances in:
Dubai
Bahrain
Carribean
Lapland
New Delhi
Singapore
Rolls Royce
" Jason was a great hit at the Khareef festivaI, I would recommend him strongly and warmly. "

Colin Hepburn - Director, British Council, Oman
" Jason went down extremely well with our audience, and was a pleasure to work with "

Alan Rutt- Director British Council, Mozambique
" Jason, you were wonderful...everybody loved you "

Teresa - Corporate Client
" The Queen enjoyed herself immensely'. Thank you so much for your wonderful work. "

Lady Elizabeth Anson