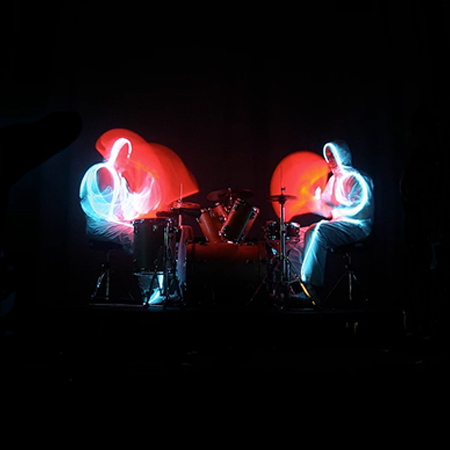 LED Drum Battle
An exciting drum duel between two talented drummers dressed in LED light costumes
One of the best drum battles inspired by Clint Eastwood's iconic gun duels
Drummers can ask other performers such as bass players and guitarists to join them on stage
Ideal for theatres and venues with dim light conditions for greater visual impact
This LED Drum Battle can be booked for events in the US and all around the world
Allow audiences at your upcoming big event to experience a visual spectacle like no other: an exciting drum duel between two talented drummers. Inspired by Clint Eastwood's iconic gun duels, this vibrant performance is one of the best drum battles audiences at your event will ever witness.
Two formidable drummers will engage into battle and fight over being the best 'Drum & Bass' player. A dynamic performance full of energy and vitality, this dueling drums show will make spectators feel like jumping out of their seats in enthusiasm and cheer the favourite drummer up.
Our dueling drummers are guaranteed to win the crowds over from the very start with their infectious passion and energy. Dressed in glowing LED light costumes, they will create a futuristic atmosphere ideal for technological events, theme parties and any other evening occasion.
This exciting high-speed drum duel is a unique musical experience you can't afford to miss. Especially dazzling when executed under complete dark conditions, this visually stunning dueling drums show is one of the best drum battles available for international bookings.
Scarlett Entertainment can offer you a wide variety of drummers and percussionists for events all around the world.
If you would like to book this extraordinary LED Drum Battle, get in touch with us today and ask to speak to one of our Entertainment Coordinators. They will be delighted to guide you through the booking process and provide further information on this exciting drum duel.