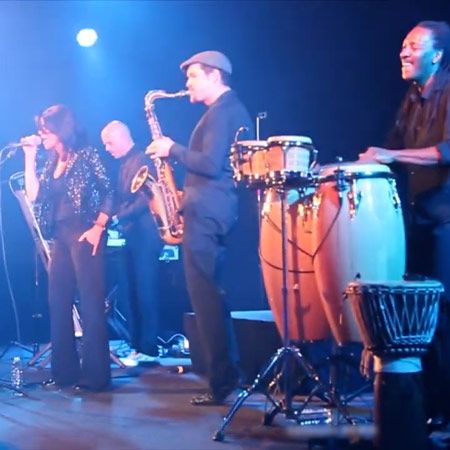 Live Electro-Jazz Band
Live electronic music for events including deep house, smooth jazz, electro pop, nu funk and more
Highly versatile, take your pick from our DJ and live musicians
Live vocalists can mingle with crowds as our DJ remixes tracks from the deck
Perfect for warming up a crowd our live electronic music for events will get guests in the party mood
Based in Lyon, France, our Live Electro-Jazz Band is available for international bookings
Live Electro-Jazz Band VIDEOS
Live Electro-Jazz Band PHOTOS
An exhilarating concept that blends DJs with live band musicians, our Live Electro-Jazz Band offers fantastic lounge music for a range of events and venues.
Perfect for getting guests in the party mood, our DJ and live musicians will create up-tempo beats, smooth grooves and exhilarating DJ mixes of electro pop that creates a sound impossible not to move to.
An exceptional choice for bars, lounges, venues, private parties and weddings after that vibrant and contemporary Ibiza vibe, our DJ and live musicians are sure to blow audiences away. 
Highly versatile and scalable, choose from a number of variations to create a sound you love. With DJ remixes blended with live guitar, vocals, saxophone and percussion, there's no end to the combinations of musicians you can create with our Live Electro-Jazz Band. Choose one to five artists including keys, male and female singers, saxophonist, guitarist, and percussionist. 
Also experienced as a dynamic MC, our DJ or strong female lead vocalist can host your event from the decks.
Accentuating the club vibe, our female vocalist or saxophonist can roam among your crowd while playing for a thrilling party atmosphere. Up close and personal with your guests, our musicians will mingle on the dance floor creating an exciting photo opportunity and breaking down the barrier between performer and audience. 
With an energetic sound blended from a whole host of genres including deep house, smooth jazz, electro pop, nu funk and more, expect to hear DJ remixes of the likes of Sting, The Temptations, Tina Turner, Adele, Daft Punk, Beatles, Kool & the gang, and many more.
Scarlett Entertainment offers a huge variety of DJ and Live Musicians and Live Electronic Music for events across Europe, the US and all over the world.
Enquire about this Live Electro-Jazz Band by contacting us today. Our dedicated team of Entertainment Experts will be more than happy to answer all the questions you may have about any live electronic music for events and assist you with your booking.