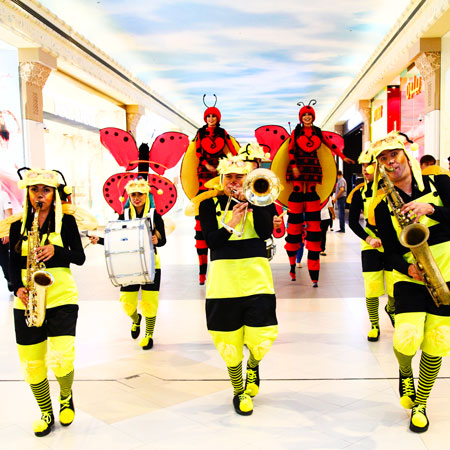 Musical Bug Parade
The musical bug parade will have your audience buzzing with excitement
Musical carnival-style extravaganza featuring live music, circus performers, stilt walkers and more
Great for street festivals, shopping malls, themed events and more
High energy family friendly entertainment for all types of audience
Based in Dubai and available for events internationally
Musical Bug Parade PHOTOS
Our fantastic musical bug parade will have your audience buzzing with excitement. Swarming into your event with their lively and vibrant carnival parade style variety show, they will have all-eyes on them as they make their way through the crowds. This very popular Dubai entertainment is an ideal attention grabber that always puts a smile on people's faces and they can't help but be enthralled by the infectious rhythms and melodies.  
The wonderful musical bug parade is non-stop variety show extravaganza with live musicians, stilt walkers and circus performers. The insect themed carnival parade features percussive and horn-playing bumble bees, stilt walking ladybirds, ribbon dancing butterflies and circus trick performing ants. They entertain crowds with a colourful, live music filled, high energy procession through the crowds occasionally stopping off for small static performances.  
Driving all attention on them, our insect themed carnival parade are the perfect Dubai entertainment option for street festivals, shopping malls, wildlife, jungle or nature themed events and much much more. This Dubai entertainment can perform anywhere in the UAE and able to travel all over the world.
To book the vibrant musical bug parade for your next event, please get in touch with our team of specialists at Scarlett Entertainment who will be more than happy to help you.