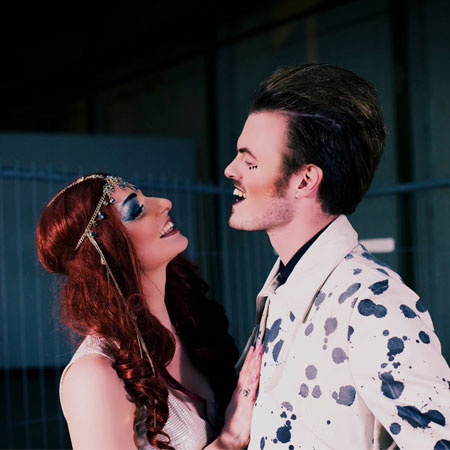 Musical Duo Holland
A duo of classical crossover singers, this pair has headlined amazing events like Amsterdam Gay Pride where they performed for one million people
Featuring the winner of Dutch Popsters 2008 and a professionally trained musical theatre performer, our cover duo are unstoppable
With a varied repertoire, the function singers perform everything from classical and jazz to acoustic versions of modern pop songs
They have been booked by such clients as Hotel L'Europe, Hotel Avila, Thomson Cruises
Hire Musical Duo Holland to perform at events worldwide
Musical Duo Holland PHOTOS
A spellbinding musical duo performing classical crossover shows, this stylish pair never fail to enchant audiences. Featuring two professionally trained function singers, the singers combine classical vocals with upbeat contemporary performances. Filling every show with passion, excitement and creativity, it is no surprise that our cover duo has been booked to perform at some of the most prestigious events the world has ever seen.
Having entertained crowds of one million at Amsterdam Pride in 2010, not to mention taking to the stage at incredible corporate functions and galas, our Musical Duo Holland are guaranteed to provide entertainment that will make guests sit up and take notice.
This Holland based cover duo specialises in performances for luxury audiences. Their genres and styles range from classical (Andrea Bocceli / Sarah Brightman), jazz and acoustic versions of modern pop songs, all the way to club hits from the 80s, 90s, and now. They have performed classical crossover shows for 5 star hotels and restaurants in Europe and the Caribbean, such as Hotel L'Europe in Amsterdam, Hotel Avila in Curacao, and Queens Gardens Resort in Saba.
Individually, the classical singers have accomplished much in the entertainment industry, including performing for Walt Disney, Universal Studios, Holland America Line, Universal Studios Japan, Joop van den Ende, and many theatres around the world. Brandi, the female half of the duo, is the former winner of the Dutch television show Popstars, where she had a recording contract with Warner Music Benelux, and a number one single in the hit charts.
Providing spellbinding classical vocals for all occasions, clients love the versatility of our classy function singers. Able to adapt their shows to cater to specific event themes or requirements, the duo are more than happy to provide bespoke performances. Creating a glamorous atmosphere whenever they perform, enjoy high end entertainment from the superb Musical Duo Holland.
Get in touch with our office at Scarlett Entertainment today to learn more.
Albany Theatre (United Kingdom)
Holland House Beach Hotel (4 star hotel St Maarten)
Walibi World (Netherlands)
Amsterdam Pride (Netherlands)
Stockholm Pride (Sweden)
Baku2Almere Eurovision Concert (Netherlands)
Club Opera (Sweden)
Ride for the Roses (Netherlands)
Gary's (Japan)
Universal Studios (United States)
Arjan van Dijk (Netherlands)
PEEL Entertainment (United Kingdom)
OUT tv (Netherlands & Belgium)
Silverseas Cruise Lines (worldwide)
Queens Gardens Resort & Spa (5 star hotel Saba)
Hotel Avila (5 star hotel Curacao)
Burlesque and Chocolate Festival (Amsterdam)
Antwerpen Pride (Belgium)
The Night of Eurovision Artists (Netherlands)
Schloss Neubeuern (Germany)
Tour de France (Netherlands)
Stout en Nieuw (Netherlands)
Walt Disney World (United States)
Universal Japan (Japan)
Epic Creative (United Kingdom)
Club Paradise (Sweden)
Thomson Cruises  (worldwide)
" I feel so fortunate to have enjoyed not one, not two, but THREE live performances on Saba this past year! After truly bringing down the house in June at Deep End with dancing and party music, you wowed the audience again on Christmas Eve at Queen's Garden with Classics and Christmas favourites and finally a fun-filled afternoon at Chez Bubba with a little bit of everything. Three very different venues and events, but at each, your ability to engage and "wow" the audience was amazing! It is truly a pleasure to watch such a gifted duo who are versatile and talented at so many genres – your talent, professionalism and unbridled enthusiasm comes through in every set. Bravo! "

Cheri Waterfield, owner DEEP END restaurant SABA
" They absolutely blew me away. Their vocal range is phenomenal, as is there enthusiasm They totally rock it. Brandi's standing ovation is just an example of the audiences response. They are completely committed to what ever they take part in. Max's , David Bowie has to be seen to be believed. I've been in this business for fifty years and really enjoy working with such talented young people. They deserve to go far and should be a name on every Booker's lips in the future. They are perfect for every nationality, and they look amazing. "

Maurice Grumbleweed, original member of the British band The Grumbleweeds
" Your shows aboard The Thomson Dream were truly extraordinary! Being a bit of a Queen expert I was amazed by your rendition of "Barcelona". Freddie would not be spinning in his grave, he would be sat up applauding! Montserrat Caballé would be applauding too! Your vocals and songs swooped from the realms of classical music to classic pop and held the entire audience spellbound in a state of emotion and delight. I have never seen a cruise audience so blown away and in awe of what they had just seen! This kind of respect is usually only given to well known artistes by their loyal fans! I am convinced the world is now your oyster, maintain this kind of momentum you cannot fail to succeed! "

Stewart Saint, piano player for a "Night at the Opera, Queen Tribute"
" Hi, We have just returned from a two week cruise on Thomson Majesty, our first cruise and it was everything that we hoped it would and more and we are glad to say that the MORE was you two performing, every song every dance even Max in the comedy farce was a totally brilliant experience. The Venice sailaway was the icing on the cake for us, on a beautiful evening sailing out of a Wonderful City we had the opportunity of looking at the whole cityscape but could not take our eyes off of you two performing the most perfect romantic show that we have ever seen or heard. We hope to see you perform Live again soon and would say that you both are the full package all you do is done to perfection. We wish you all the best for the future. Good luck to you (not that you need Luck) you have the Talent to reach the Stars "

Anne Lowe, guest onboard Thomson Majesty
" We were thrilled to learn that […] would be performing at the Holland House in St Maarten again this year! This time our daughters would be with us to hear and see them as well. After meeting last year they seem like family to us. So it was like a huge family reunion. The duo sang songs by Edith Piaf, Christina Aguilers, Andréa a Bocelli, Frank Sinatra, Michael Jackson and artists of today. They performed hits by our favorite artists and songs that we love. It was such a special evening we hated to see it end. We requested that the resort have them back again next year. […] We can't wait for your next CD. XOXOXO. Keep in touch with us. "

Brenda & Milton Womack, guests at Holland House Beach Hotel