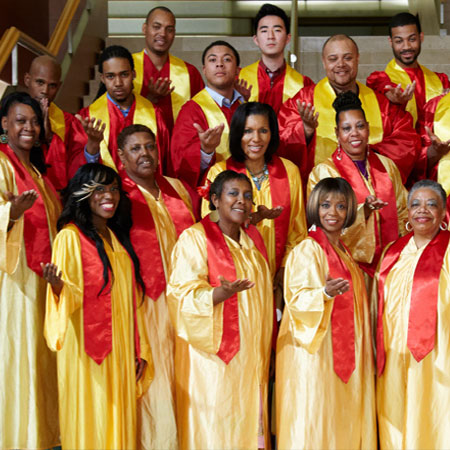 New York Gospel Choir
Gospel Choir known as "The Best A Cappella Choir in the U.S.A."
Have performed with Enrique Iglesias, Darlene Love and Mavis Staples
The professional choir have performed to millions on international TV
Their urban gospel songs will have any spectators dancing in their seats
Based in New York and available to perform at events worldwide
Known as "The Best A Cappella Choir in the U.S.A." this talented New York ensemble have been singing for the past 19 years and have performed to millions of viewers on TV worldwide.
Initially formed to sing exclusively on popular CBS TV show, "Late Night Show with David Letterman" the group proved to be so popular that the show's musical director invited the choir to sing the very next night and have since appeared on the show over 13 times. The gospel choir has also accompanied artists such as Gloria Estefan, Enrique Iglesias, Darlene Love, Mavis Staples, Martin Shore and Steve Martin on the show.
Their awesome harmonies and soulful renditions of old Negro Spirituals and hymns sung a cappella style will simply amaze guests and, their interpretations of popular traditional and Urban Gospel songs will have any spectators 'dancing in their seats'.
The choir have sung in powerful concerts all over America and internationally. In 2012, the choir was featured on MTV'S "unplugged" with hot rock band, 30 Seconds to Mars, and in 2011 they had two outstanding sell-out tours of the nation of Spain where enthusiastic crowds gave them standing ovations.
All incredibly passionate singers, New York Gospel Choir will truly raise the roof at your next event!