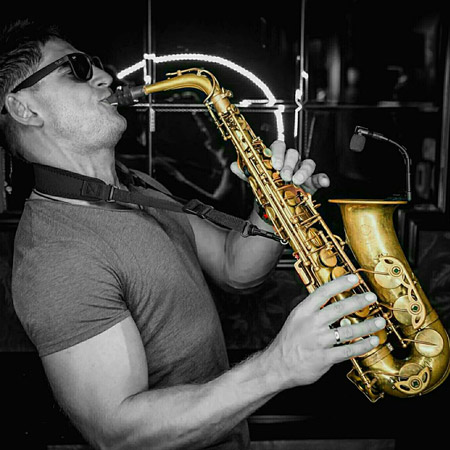 Sax Player Dubai
Highly experienced live sax player brings smooth sounds to your event
Over 10 years experience as a freelance saxophonist
Performs solo or with a variety of live ensembles
Suited to everything from private parties to luxury corporate functions
Based in Dubai and available for events throughout the Middle East
Our very versatile Sax Player Dubai is an exceptional live solo musician who can adapt and tailor his performance for a variety of events throughout the UAE. Her delivers either energetic party shows or smooth sophisticated background music making him suited to everything from private parties to luxury corporate functions. 
Originally from the Ukraine, the now Dubai-based freelance sax player has been making an impact in the region with his incredible talents and ability to effortlessly bond with other musicians. He now has over 10 years experience as a live solo musician and has perfected his live performance style.
Sax Player Dubai offers an extremely flexible approach to live events. This very versatile sax player is able to perform a range of style that includes smooth jazz, funk, deep house, disco, electro, pop, Hip-Hop, Lounge and much more. He is more than happy to tailor his performance to suit client requirements and event type. 
Book as a live solo musician to serenade your guests with the sophisticated sounds of the sax or in a range of musical line-ups. The freelance saxophonist regularly performs in a range of ensembles from a five-piece jazz band down to a pop duo with a female singer. Whatever your needs, he will have a line-up to suit. This function saxophonist also has years of experience performing alongside DJs in nightclub and party environments. 
Top Tip:
For added impact, our sax player can DJ and play at the same time. Watch the video above to showcases his DJing skills.
Contact our team at Scarlett Entertainment to book Sax Player Dubai for your event in the UAE.