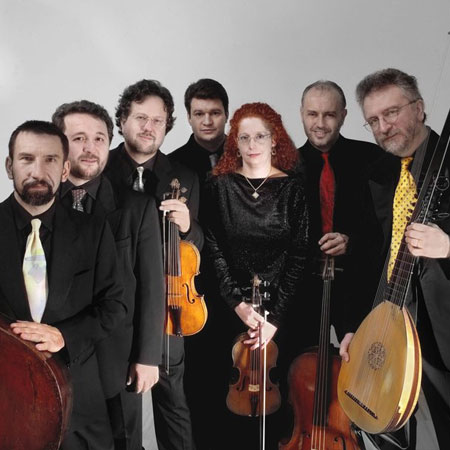 String Ensemble Italy
Award winning String Ensemble, Play ancient music on period instruments
A repertoire that ranges from the late 16th century to Classicism
Performed at high profile international music festivals
String ensemble that can be expanded into a small orchestra
Based in Italy & available to perform at events worldwide
String Ensemble Italy PHOTOS
Founded in Treviso, this String Ensemble have become one of the most famous groups in Italy, for almost twenty years playing ancient music on period instruments. A string ensemble that can be expanded into a small orchestra, they feature a repertoire that ranges from the late 16th century to Classicism, with particular dedication to traditional music of the Veneto.
The String Ensemble have taken part in such important international music festivals as those held in Ambronaye, Amsterdam (Concertgebouw), Arolsen (Barock Festpsiele), Ascona (Settimane Musicali), Barcelona (Palau de la Musica), Bremen (Musikfest), Bruges (Festival van Vlaanderen), Bruxelles (Festival de Wallonie, Printemps de Sablon, Europalia), Buenos Aires (Teatro Coliseum), Le Chaise Dieu, Lisbona (Goulbenkian, Capuchos), Luzern (Osterfestspiele, KKA), Ludwigsburg, Lugano (Primavera Concertistica), Montreux (Voice & Music Festival), München (Opern-Festspiele), Passau (Europäisches Musikfest), Potsdam (Sanssouci Musikfestspiele), Regensburg (Tage Alte Musik), Salzburg (Mozarteum, Bach-Gesellschaft), Schleswig Holstein, Schwetzinger Festspiele, Sion (Festival Tibor Varga), St.Moritz (Snow & Symphony), Tirana (Allegretto Albania), Zamora (Portico de Semana Santa), Zürich (Tonhalle), Warshaw (Beethoven Festival), Wraklaw (Vratislavia Cantans),Wien (Musikvereinsaal, Resonanzen), among others, and they have likewise performed in major cities throughout Europe.
In Italy, the group has played at the most important music festivals as well as for the primary concert organizers, including Asolo (Incontri Asolani), Bologna Festival, Catania (Amici della Musica), Città di Castello (Festival delle Nazioni), Ferrara Musica, Firenze (Amici della Musica), Jesi (Festival Pergolesi-Spontini), Milano (Società del Quartetto, San Maurizio), Padova (Amici della Musica), Palermo (Amici della Musica), Reggio Emila (Teatro Valli), Siena (Accademia Chigiana), Stresa (Settimane Musicali), Torino (Unione musicale), Vicenza (Amici della Musica) etc.
Their concerts have been broadcast on a regular basis by all the principal radio networks in Europe.
Balli Capricci & Stravaganze
Musica a Venezia nel XVII & XVIII secolo
Musiche veneziane per archi da chiesa e da camera
La trio sonata a Venezia da Monteverdi a Vivaldi
Follie all'Italiana
Festa Veneziana
Antonio Vivaldi
"DISCORDIA CONCORS" Concerti per violino scordato
Le Quattro Stagioni
Concerti per fagotto
Concerti per violoncello
Le Humane Passioni
Concerti della Natura
Concerti Gemelli
"Duello Amoroso"
Antonio Vivaldi & Johann Frideric Fasch
17th Century
Händel in Italia
Filosofi & Buffoni
Musica nell' epoca di Giambattista Tiepolo (1696 - 1770)
Bach & Vivaldi
Stabat Mater di Pergolesi
Venezia e Napoli concerti per fagotto intorno al 1720
Stabat Mater di Pergolesi (Alio Modo)
Intermezzo Napoletano
La luce di Venezia a Madrid
Da Venezia a Napoli
Il Settecento a Napoli & Venezia
Classic
Balli Capricci & Stravaganze
Musica a Venezia nel XVII & XVIII secolo
Musiche veneziane per archi da chiesa e da camera
La trio sonata a Venezia da Monteverdi a Vivaldi
Follie all'Italiana
Festa Veneziana
18th Century