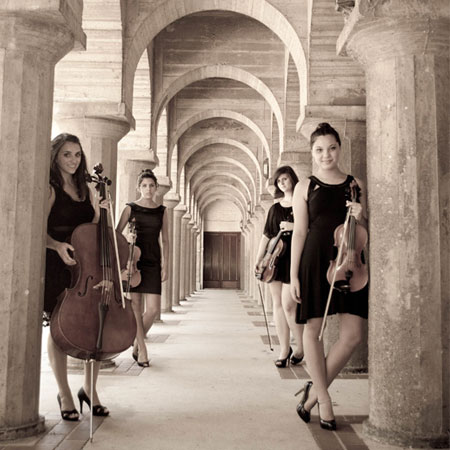 String Quartet Australia
Bring savoir faire, class and high brow sophistication to any event
Have over 25 years combined experience in public performance
Perform an extensive repertoire suitable for any event or function
Popular with corporate events, weddings, art gallery functions...
Based in Perth & available to perform at events throughout Australia
String Quartet Australia PHOTOS
This sophisticated, distinctive student string quartet from Perth, Western Australia, is comprised of Sayana Barnes on Violin I, Sophia Hawes on Violin II, Rachel Hicks on Viola and Cassie Mcleod on Cello.  The string quartet study at the University of Western Australia and the WA Academy of Performing Arts.
Taken together, the members the quartet have over 25 years combined experience in public performance and collaborative music-making.
Three of our quartet are full time players in the Western Australian Youth Orchestra, and regularly collaborate with distinguished artists and maestros such as the Whitlams, Ennio Morriccone, Vladmir Verbitsky and Arvo Volmer.
As a student-owned yet professional string quartet, they bring savoir faire, class and high brow sophistication to any corporate event, wedding, reception or function – anywhere in Australia.
Yellow the Scientist Paradise – Coldplay
Hallelujah – Jeff Buckley
O mio Babbino Caro – G. Puccini
Chasing cars – Snow Patrol
At last – Etta James
Bittersweet symphony – the Verve
Can't take my eyes off you – Frankie Vallie
Don't stop believing – Journey
What a wonderful world – Louis Armstrong
Moon river – theme from Breakfast at Tiffanys
Unchained melody – Righteous Brothers
On the Beautiful danube – J. Strauss Jnr
Sleeping Beauty Waltz – P.I Tchaikovsky
Aria- Queen of the Night – W.A Mozart
Kanon in D – J. Pachelbel
Bridal March (Lohengrin) – R. Wagner
March of the Lead Soldiers – Gabriel Pierne
Menuetto from Serenade No.1 – J. Brahms
Quartet No.2 No 1-6 – Haydn
Gigue from the third orchestral suite – J.S Bach
Fuga Prima – G. Puccini
Classical repertoire