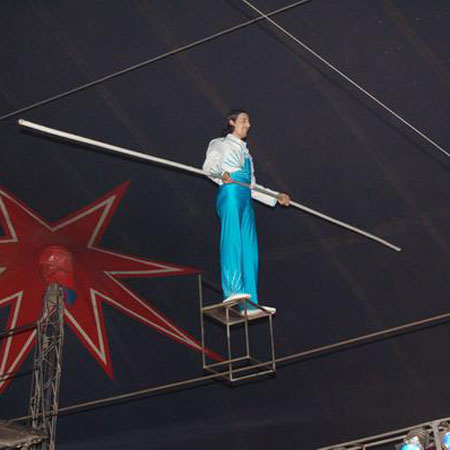 World Record High Wire Acrobat
World record setting high wire acrobat will perform heart stopping acts to have audiences on the edge of their seats
Daring stunt man holds an incredible five Guinness world records including fastest time to walk 100 metres backwards on a tightrope!
Stun man performs jaw dropping acts including balancing on a chair on a tightrope and using a skipping rope and stilts on a hire wire
Unbelievable wire walker will even ride a unicycle across a tightrope!
Sensational high wire act available for circuses, festivals, cruise ships and leisure parks worldwide
Book this extraordinary high wire acrobat and experience the jaw dropping stunts and performances from our multi world record setting acrobat. This daring tightrope walker is sure to provide gripping, edge of your seat entertainment for any circus, festival, cruise ship or theme park with his unbelievable skill and bravery. Guests will go wild for this nail biting act as our stunt man performs death defying acts on tightropes and high wires above terrifying drops. Our legendary high wire act is the absolute best in the business and is sure to dazzle any audience. Book our sensational wire walker and give your audience a heart-stopping marvel that has to be seen to be believed.
Our incredible high wire acrobat is one of the best and most lauded tightrope walkers in history. This legendary tightrope walker has been in the business for 25 years and holds and amazing five Guinness world records. He currently holds the world record for the fastest time running backwards 100 metres on a tightrope, a daring and heart racing act that will have audiences anywhere holding their breath. He also holds the record for walking on the high wire the steepest gradient and many other unbelievable feats.
This daring stunt man will perform seemingly impossible tricks in his sensational high wire act including balancing on a chair atop a high wire, and using a skipping rope while wearing stilts. He has even performed such jaw dropping balancing acts as walking on a wire between two hot air balloons at dizzying heights, and even riding a bicycle and unicycle across a tightrope! This sensational wire walker really is leagues above the competition and has to be seen to be believed.
Scarlett Entertainment brings you a huge range of circus acts  to amaze and entertain your guests. Contact our expert team to book the right act for your event.