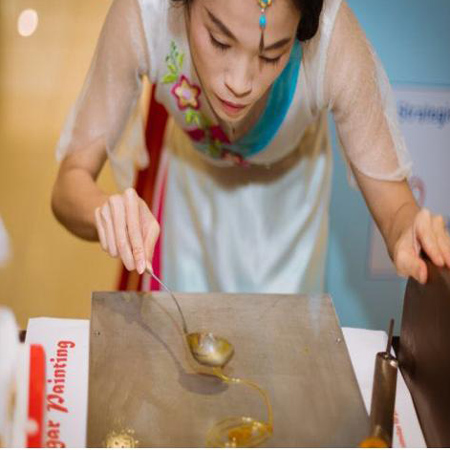 Dubai Sugar Painting
Traditional Chinese folk art sugar creations for interactive food and drink entertainment
Talented sugar artist creates impressive edible food sculptures
Amazing act to impress an audience with a sweet tooth
Suitable for shopping malls, weddings, interactive children's entertainment and birthday parties
Based in Dubai and also available in China
Dubai Sugar Painting PHOTOS
If you're looking for some food and drink entertainment with a bit of a difference or something your guests can really get their teeth stuck into, look no further. Our sugar artist will create fantastic Chinese folk art food sculptures that will satisfy those guests with a sweet tooth.
Sugar painting is a traditional Chinese folk art using hot, melted sugar. Our really talented sugar artist creates food sculptures by drizzling the melted sugar onto white marble or metal. Starting with a thick outline the sugar artist can create a large variety figures. Staple Chinese folk art figurines are a dragon, phoenix and rabbit. The final stage of the food sculptures involves attaching a thin wooden stick so the customer can hold it.
In China there are 12 signs according to people's birth year. These are very popular for children's entertainment at birthday parties. The sugar artist can also create food sculptures with custom images, special writing or brand logos to really wow the guests at your event.
This interactive food and drink entertainment offers sweet treat for a variety of events like weddings, birthday parties, special occasions, brand reveals and entertainment shopping malls. Can also be used to present desserts in restaurants or at dinner parties. Previous clients include the Chinese Embassy and the Chinese Commercial Community in Dubai.
To book this artist for your event, speak to one of our team members at Scarlett Entertainment.
Huawei
Naheel Group in Dubai
Chinese Embassy in Dubai
Jumerah Group
Chinese commercial community in Dubai
IDEA ARTICLES RELATED TO Dubai Sugar Painting