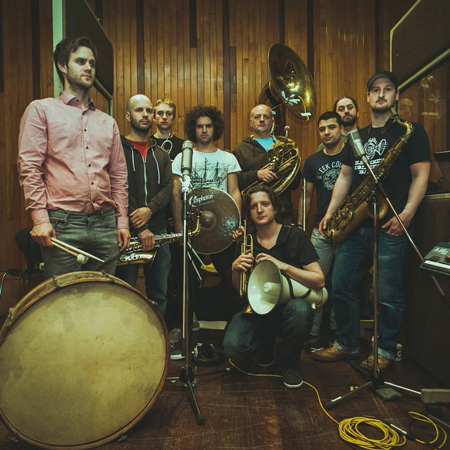 New Orleans Brass Band
High-energy, good-time music that'll make you want to move your feet
Features elements of funk, hip-hop, hi-octane rock, Balkan brass, ska and jazz
Made up of trumpets, trombones, saxes, sousaphone and marching percussion
Played the Olympics closing ceremony, sold-out headline shows at top London venues
Based in London and available to perform at events worldwide
New Orleans Brass Band VIDEOS
New Orleans Brass Band PHOTOS
Formed in 2008 out of a desire to play music that appealed to the feet as much as to the ears, the unique take on the brass band feature trumpets, trombones, saxes, sousaphone and marching percussion. Based in East London, the band are totally acoustic and yet able to blow the roof off any room.
The brass Band's members have hugely diverse musical backgrounds, ranging from work with cutting edge jazz groups to the Royal Opera House, and from Jarvis Cocker to major international orchestras.
This breadth of musical talent is clearly on display in their eclectic repertoire. Mining nuggets of funk, hip-hop and rock from the musical coalface and throwing in a few chunks of Balkan brass, ska and contemporary jazz for good measure.
The band has played sold-out headline shows at the Jazz Café (including a memorable impromptu jam with Amy Winehouse), Scala, The Garage, Hootenanny and many more top London venues; supported US brass megastars the Hypnotic Brass Ensemble and great British musician Jamie Cullum at the Roundhouse; performed headline shows at the Durham International Brass Festival and Manchester International Jazz Festival; and toured Kosovo, Slovenia, Montenegro, Holland, Germany and Ireland as well as performing at the London Olympics closing ceremony. 
Add the fact that the band stays true to its roots by bringing the tradition of mobile marching bands firmly into the 21st Century and you know that every gig's sure to be unique. Whatever and wherever they're playing, though, you can be certain of one thing: this is high-energy, good-time music that'll make you want move your feet.
Contact one of our Entertainment Team who will be able to assist you in booking this or any other act on our global roster.
" "Amazing...incredible...Wow." "

Craig Charles, BBC Radio 6Music
" "Brilliant live band and they've just made another great record. I smell a collaboration'' "

Jamie Cullum, Radio 2
" "An inspired musical collision." "

The Times, Essential Tracks
" "This is the most enjoyable, fun music that I know of" "

The Observer
" "One of my favourite live bands" "

Huey Morgan, BBC Radio 6Music